Current CT Conditions
At A Glance
(Click on any graphic below for more information)
Streamflow in CT Now
(click map to go to the data page)
High Flow Low Flow Not Ranked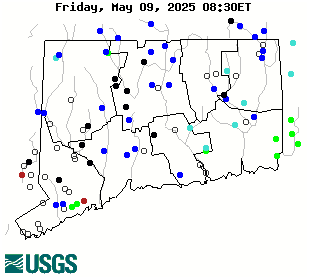 Recent Flow At a CT Stream
(click graph for details)
Groundwater Level
(click graph to see more well data)

Check your forecast here
(click map to go to state weather page)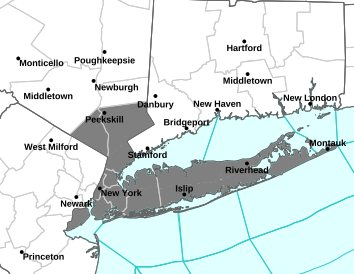 Graphic courtesy NOAA showing CT area watches and warnings if any.
---
Streamflow in CT discussion
Looking back over the past three months of streamflow in Connecticut (as of Monday July 19) shows what a significant change has occurred in our weather patterns. Click here to see the past 92 days of streamflow graphs as of the time you loaded this webpage (caution: large file, long download).
From the end of April through the the last week of May, streamflow across Connecticut showed a steady decline with a few brief upticks due to localized storms. On May 3, 35 out of 64 USGS streamgages in CT were reporting low flows, by May 24 that number was up to 58 out of 64.
Significant rain at the beginning of June briefly brought all flows well above normal, but not as high as they would have been had flows been anywhere near normal before the storms hit. After that first week of June, though all flows declined pretty steadily, those in the eastern part of the state stayed mostly above normal for the time of year while the western Connecticut streams and rivers stayed below normal. On June 22, 25 out of 64 gages were reporting below-normal flows.
In July everything changed. The unrelenting parade of storms have kept all streamflow well above normal, with flood watches issued almost daily across the state. On Monday July 19, the USGS map of the state (to the right) looked like it was beaten up, with black and blue dots all over it.
Look on our Facebook page for videos of the high flows.
---
Streamflow across the state near the time you loaded or refreshed this page is shown on the Streamflow in CT Now map to the right. Click on that map to go to the CT USGS streamflow website. The USGS is careful to only rank stream gages with 30 or more years of record on their state map at https://waterdata.usgs.gov/ct/nwis/rt. This is why that map does not show the same number of low and very low rivers as we report here.
We define low streamflow as below the 25th percentile or below 25% of the mean flow for that date, from all stream gages in the data file at https://waterwatch.usgs.gov/webservices/realtime?region=ct&format=xml when rivers are near their lowest points between storms. Very low is under the 10th percentile. We call a flow record-breaking if the flow at the time we recorded it was lower than the lowest daily average flow for that date. That particular flow rate may not set a new record however, unless it stays that way all day because its the average flow over the that whole day that is used to categorize flow rates.
Why do we count?
The flow between storms is an indicator of long-term stream conditions. Although expansion of a river or stream channel onto its floodplain is a normal, natural occurrence, human interference can cause higher than normal and more frequent flooding. The higher the water level remaining in streams and rivers before a storm, the more likely there will be dangerous conditions, streambed scouring, and other detrimental effects of high water.
When water levels are low, portions of the streambed become too dry to support the aquatic life that usually colonizes those areas. Groundwater seeping from the stream banks can help organisms survive for short times; therefore, well measurements can also be used to identify areas where aquatic life might be in jeopardy.
---
---
CONNECTICUT INTERAGENCY DROUGHT WORKGROUP:
Drought No Longer Present in Connecticut
After months in moderate drought conditions, the state is now out of the drought altogether, according to the Connecticut Interagency Drought Workgroup, which voted Jan 8 to eliminate the remaining drought designations for all counties.
---
This Webpage: Drought Center Status --- U.S. Drought Monitor -- Streamflow (this section) --- Groundwater --- Public Water Supplies --- Precipitation --- Forecasts--- Flood Info
---
This Webpage: Drought Center Status --- U.S. Drought Monitor -- Streamflow --- Groundwater --- Public Water Supplies --- Precipitation --- Forecasts--- Flood Info
---
Groundwater Links
Recent Data: In Connecticut, the USGS has 10 real-time groundwater monitoring wells.
The USGS Groundwater Watch website displays data from 58 other wells that are usually measured once a month, comparing the most recent measurements to each well's measurements taken in that month in previous years.
Groundwater and Streamflow Basics: The water level in streams and rivers between storms depends on the flow of water out of the ground into the stream channel. The lowest flow between storms is often called baseflow, and in Connecticut, the total baseflow to rivers and streams usually provides as much or more than runoff does. The higher the water table, the more water is available to keep streams flowing between precipitation events. High water tables keep streamflow from dropping very far or very fast between storms, so when the next storm hits, the runoff pushes streams to higher levels with more chance of flooding. The lower the water table, the less groundwater flow is available to keep rivers and streams flowing between storms. If the water table near a stream drops lower than the bed of the stream, the stream goes dry and the aquatic ecosystem in that area can collapse.
Groundwater levels normally trend downward through the summer and early fall, but if the water table falls well below what is normal for the time of year, baseflow in rivers and streams will be below normal for the time of year also. An inch of heavy rain does not provide as much groundwater recharge as the same total amount of rain over a longer time because much of the heavy rain runs off directly to surface water.
---
This Webpage: Drought Center Status --- U.S. Drought Monitor -- Streamflow ---Groundwater --- Public Water Supplies --- Precipitation --- Forecasts--- Flood Info
---
Public Water Supply Information
Your water utility and town are the best sources of information on the status of your water supply. A few systems post their current capacities regularly on their websites, or issue press releases. You can also search for news stories. Rivers Alliance has a partial list of water company websites here. The Connecticut Interagency Drought Workgroup meeting handouts contain previous monthly reservoir levels.
---
This Webpage: Drought Center Status --- U.S. Drought Monitor -- Streamflow --- Groundwater --- Public Water Supplies --- Precipitation --- Forecasts--- Flood Info
---
Weather Links
Please note that daily radar-estimated rainfall totals from the National Weather Service (NWS) Advanced Hydrologic Prediction Service (AHPS) are recorded for the 24 hours before 12:00 Universal Time Clock (UTC). This is 8:00AM Eastern Daylight Time. This means that the total rainfall mapped for October 13, 2020 is the sum of what their radar detected from 8:00AM on Oct 12 to 8:00AM on October 13 our time. That is why there may be much rain mapped for "Today" when it has been dry since midnight our time, because they show the rain since 8 AM yesterday our time.
Here are links to examples of some of the data available from the National Weather Service (NWS) Advanced Hydrologic Prediction Service (AHPS):
Atmospheric rivers are represented in computer modeling by the Center for Western Weather and Water Extremes at the Scripps Institute of Oceanography at the University of California San Diegoa>. Click here for a discussion and links about atmospheric rivers from a previous Know Your Flow! page. The animation to the right shows what was predicted for Oct 16-17 with a radar loop from that day.
For technical information about past broad-scale weather patterns, see NOAA's National Centers for Environmental Information State of the Climate Synoptic Discussionsa>. Their discussion for the previous month are usually published about midway through the next month
---
This Webpage: Drought Center Status --- U.S. Drought Monitor --- Streamflow --- Groundwater --- Public Water Supplies --- Precipitation --- Forecasts--- Flood Info
---
Some General Flood and Heavy Rain Information
The Connecticut Department of Health website has a good guide called:

Flood predicting. Go to the Northeast River Forecast Center for flood probabilities at the gaging stations they monitor. Click here for current CT weather watches and warnings, if any.

Paddling. Do not attempt to canoe or kayak on floodwaters; there are usually one or two fatalities per year. Our Connecticut Water Trails website and the webpages of the many paddler groups in the state all have good safety procedures.

Your sewage, your well. When a building is located in a floodplain, floodwaters can saturate and fill a leach field, often flushing out untreated sewage. Floodwater also can flow down into wells, introducing pollutants — such as sewage, soil, bugs, leaves, pesticides such as weed killer and insect poison, and even the dog droppings from the backyard — into the well.

Very important: Any well that was flooded should be pumped and flushed out thoroughly and the system sanitized or "shocked."

Heavy rainfall alone can cause sewage to get into waterways even if flooding does not happen.

You really do not want to be downstream when raw untreated human sewage is entering the water.

Please see our Sewage / Wastewater Treatment Priority Topic webpage
for more information about sewage spills in Connecticut.
---
Page author: Tony Mitchell, Rivers Alliance of CT staff. tony@riversalliance.org